Episode 28 - NWSLPA president Tori Huster talks NWSL CBA
2/14/2022, 11:43 PM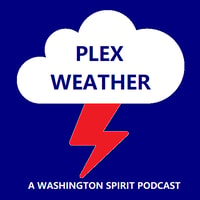 Episode Notes
Washington Spirit legend and NWSLPA president Tori Huster comes on the show to guide Jason through all things NWSL CBA after the players and league reached a landmark agreement just before the start of preseason.
We talked over the process of getting the CBA done, and went over how the ways the NWSLPA's demands will benefit players going forward. Tori also provided an injury update as she works to return to the field this year.
If you want to support the NWSLPA, please visit SupportThePlayers.net.
Intro/outro music: Jazzaddict's Intro by Cosimo Fogg (201) https://soundcloud.com/cosimo-fogg Creative Commons — Attribution 3.0 Unported— CC BY 3.0 Free Download / Stream: https://bit.ly/jazzaddicts-intro Music promoted by Audio Library https://youtu.be/hY4yspCQRaM
Find out more at https://plex-weather.pinecast.co